INTERESTING VISITS FOR SURE
OUR FLOWTRACK SYSTEM MEASURES MOVEMENT FLOWS IN YOUR BUILDING.
The anonymous visitor analysis can be used to optimize your processes and offers.
powerful counting
totally anonymous
llexible applications
LAN / WLAN / LTE
easy installation
Optional: PoE, outdoor case
THE GOOGLE ANALYTICS FOR YOUR BUILDING
UNDERSTAND PEOPLE MOVEMENTS IN BUILDINGS – IN REAL TIME.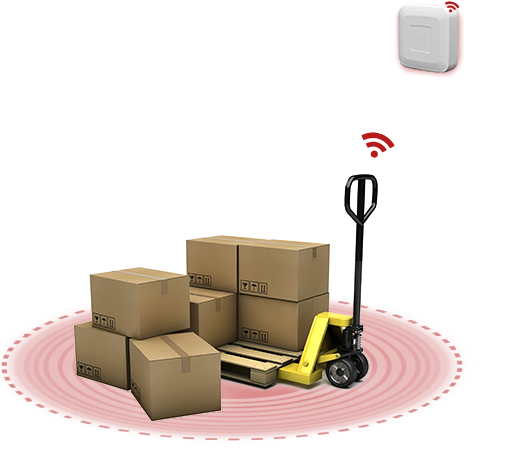 Flowtracking describes a procedure, in which movement flows are measured using sensors. The sensors passively search Bluetooth and WLAN signals emitted by mobile communication devices such as mobile telephones or tablets. Each of these devices is provided with a "digital fingerprint " or device-related Unique Identifier by the manufacturer. Individual digital fingerprints are however not important in flow-tracking. This is rather about aggregating many fingerprints and making statements about usage behaviours in buildings.
IOT INFRASTRUCTURE PLANNING
FlowTrack sensor nodes are installed in buildings according to a systematic schema. They are ideally placed discreetly within close proximity to entrances, exits and stairs as well as before elevators on or below the ceiling. Neuralgic points, where paths cross or there are particular points of interests, are also suitable. Under optimal conditions, a single FlowTrack sensor covers a circular measuring area of up to 1,500 sqm. The measuring area can be affected by structural conditions.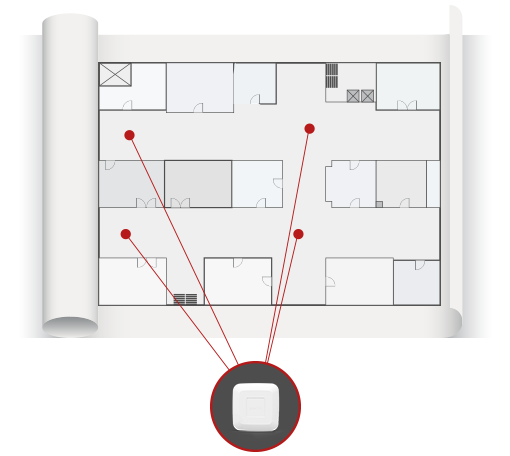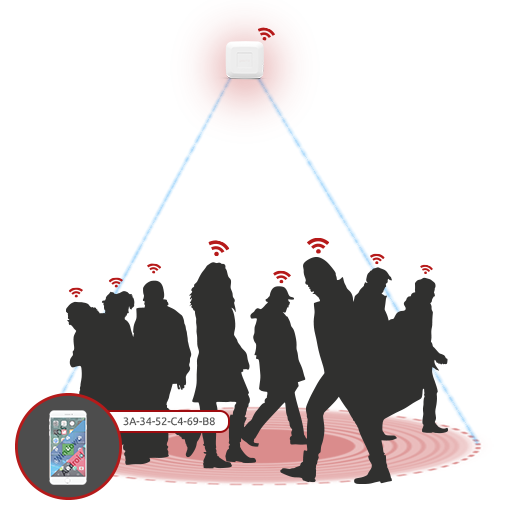 INDOOR & OUTDOOR GEOTRACKING
A FlowTrack sensor node primarily measures three parameters: (1) the "digital fingerprint" of a device, (2) the time of entry into the measuring zone and (3) the time of exit from the measuring zone. The dwell time of the measured device in the measuring zone can already be determined from these three values.
ANONYMOUS FREQUENCY MEASUREMENT
Combined with a second FlowTrack sensor, the frequency time and frequency direction between two measuring zones can be determined. The Bluetooth or WLAN signals emitted by mobile communication devices are used as measuring unit. How much time has elapsed between the exit from a measuring area A and the entry into a measuring area B?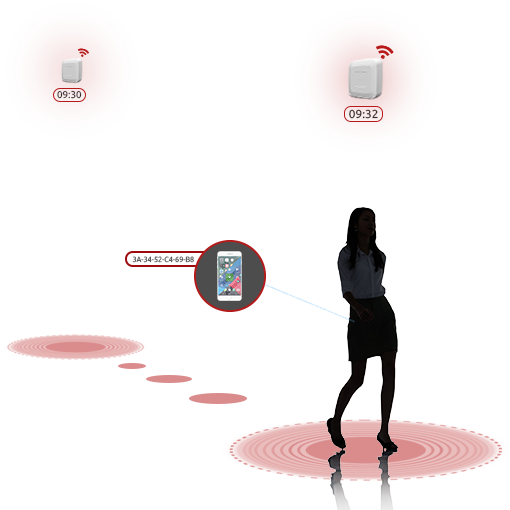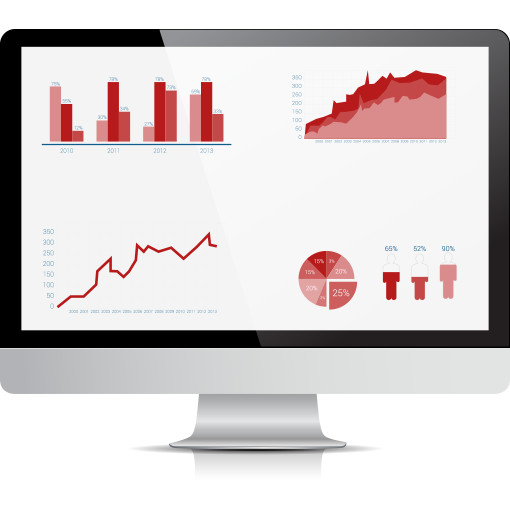 PHYSICAL LOCATION ANALYTICS
With the help of the measured "digital fingerprint", it can be recognised as to how frequently a device was located in a measuring zone. Several times per hour, several times a day, several times per week, several times per month or several times per year – the return rate can be reflected in detail through a connected database.
SYNERGY EFFECTS BETWEEN MULTIPLE AREAS
Even synergy effects can be observed in this way. Do visitors also enter an area C if they have previously entered the areas A and B? Using the FlowTrack sensors, you can validate the success of the measures for increasing the visiting activity.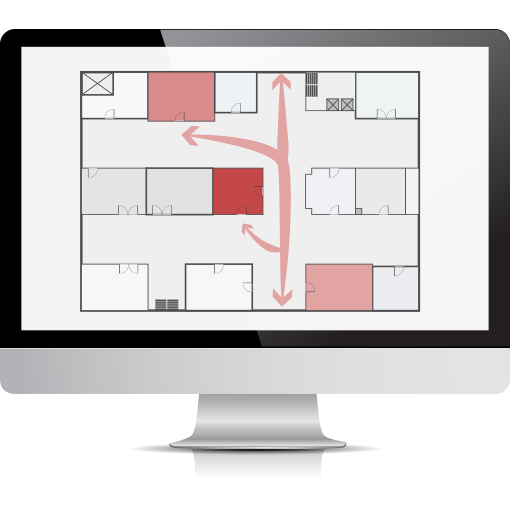 INTEGRATION OF MORE SENSORS & DATA STREAMS
By adding more data streams, e.g. rainfall or hours of sunshine from weather services as well as additional sensors such as number plate recognition or door counting systems, one can get even deeper insights into the events. Flowtrack can be integrated into almost every people counting system available in the market.